Foodies in Florence
If Tuscany is the region for the best food and wine in Italy, then Florence is its capital – a melting pot that brings together all the flavours of the neighbouring countryside. Ramona Depares helps you plan the perfect itinerary for your tastebuds.
Art, food, architecture, music, fashion, wine... there is a whole list of obvious reasons why I consider Florence to be my spir­i­­tual home. This not being my first visit, I now gave myself a different quest: that of blitzing as many restaurants, bars and eateries as possible, for a really comprehensive food experience.
Procacci
The added challenge? Dragging a non-meat-eater in tow: this, at first, I had antici­pated would be a bit of a problem. Surviving on a diet of ribollita, as delicious as the Tuscan vegetable-based soup is, was not really an option that got me excited. The problem was somewhat reduced by the fact that fish-based dishes were allowed – still, I figured that we'd have to get quite creative to succeed in our quest.
But it turns out that 'vegetarian' is no longer a dirty word in Florence and, if you know where to go, even the strictest vegans won't have a problem eating extremely well. Question was, where to start?
With the obvious, of course – joining a food tour. Too touristy? Not really – you cut to the chase when it comes to shortlisting the best places and, if you pick the right one that limits participants to a small group, then you're in for a treat. Luckily, the one we happened to pick – Florence Food Walking Tour (www.florencefoodtour.com) delivered on this and then some more.
The tour works on a simple premise – early meet up at the company quarters in Via dei Cimatori; get introduced to your guide (in this case, the charismatic Antonio); remind him about any food allergies/requirements so that individual dishes may be adapted; and, make sure you bring a good appetite with you.
Things kicked off at the Chiaroscuro Cafe (www.chiaroscurofirenze.it) with an espresso, as always; but not just any espresso: different blends were brought out to be sampled, the stories behind them recounted so that every shot (three, if you must know) is a narrative journey. The coffee philistines among us finally even discovered the difference between an honest-to-goodness espresso and an Americano.
Turns out that 'vegetarian' is no longer a dirty word in Florence
All that coffee meant we needed sustenance. Next up was truffle-haven Procacci (www.procacci1885.it). The small cafe, which somehow reminded me of our very own Prego in Valletta, is well known for its truffle panini. The pate used at Procacci is the real deal: high concentration truffle paste is a bit of an acquired taste, I suppose, but I was surprised to see that some of the other participants could not manage more than one bite.
The food guide, Antonio.
This is the ideal place for a different kind of breakfast; the decor is very olde-worlde, and I could easily have spent an hour or two just reading, drinking coffee, and wolfing down truffle panini. But the ever-charming Antonio was having none of it, so off we went on to our next destination.
Incidentally, one of the fun aspects of this tour is that you tend to get a lot of useful info in between stops – Antonio happened to have an ace sense of humour, so the info was also delivered with the appropriate dose of comedy until we reached the third stop: the Divina Enoteca (www.ladivinaenoteca.it). On this tour you get to stuff your face with a crazy amount of food, and also to drink a considerable amount of Tuscan wine. Here, I found what was to become one of my favourite whites, a Vernaccia di San Gimignano, which was crisp and went beautifully with the prosciutto, the artichoke dip and the peppered cheese. A heavier, if luscious, Montepulciano d'Abruzzo followed, coupled with some aged pecorino.
We walked off the wine with a brisk march to San Lorenzo food market, the architecture of which brings to mind the old, wrought-iron structure of our own suq in Valletta. By now, everyone was slightly buzzing on the previous wines, which meant that the socialising aspect had also kicked in nicely. At the Enoteca Marconcini I discovered some seriously lovely balsa­mico and olive oil, paired with fresh bread.
The schiacciata
Of course, more wine followed – the mercato is a treasure-trove for those who love cheeses, salami and wine. You can go in there and never come out, forever sampling different varieties. I decided to limit myself to some Mocale, a really beautiful and fragrant Chianti, before going on to the next destination to enjoy the schiacciata, the yummy Florentine flat-bread, in garlic and olive version and – wait for it – with fresh truffle spread.
At this point I can't say that we were keen on more food, but we changed our mind fast as soon as Antonio led the way to one of the sit-down 'restaurants' near the entry to the mercato. These small restaurants are very popular with the Florentines and the place was packed. However, Antonio managed to secure a table for us and, before long, the risotto with zucchini and zucchini flowers was on its way down our tummy. Risotto as it should be: firm, piping hot, mantecato for that creamy richness without the cream. I really hope that this sort of thing will see the light of day at the new market in Valletta.
Sampling different kinds of coffee.
We all groaned when Antonio declared that he was leading us to another pretty cafe for meringue and panforte – but we all scoffed them down anyway.
One question when we decided to take this tour was whether it would all end up in small nibbles that aren't exactly ideal for my unladylike appetite. The answer is, far from it. In fact, this was followed with a stop for two scoops of ice-cream to conclude in style. The Antica Gelateria Fiorentina, in Via Faenza, has the most amazing flavours, the crowning glory for me being the Buontalento (cream and mascarpone) and the pear and cheese.
Conclusion – the food tour, coupled with Antonio's knowledge and charisma, was an excellent intro for Florence first-timers, and even I got a good amount of tips about where else to visit for non-tourist traps.
For once, joining a tour turned out to be the right choice.
Where to stay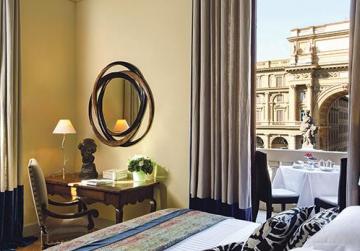 The Hotel Savoy
If you want to splurge
Hotel Savoy, Piazza della Repubblica: It doesn't get much more in the middle of things than in Florence's most buzzing square. It all happens here, and the Hotel Savoy offers the best vantage point, especially if you book a room with piazza-views balcony. There really isn't much more to add about the location apart from the fact that a two-minute walk in any direction gets you to the main sites. Service is stellar and opulence is key. Don't miss aperitivo al fresco, on the piazza itself, from 7pm onwards.
www.roccofortehotels.com/hotels-and-resorts/hotel-savoy
If you're on a tight budget
Novella House Guesthouse, Via del Porcellana: No frills, but perfectly located, super clean and very quirky. The location is halfway between the St Maria Novella train station and the Uffizi. No fresh breakfast is served, but you do get a daily goodies basket to tide you over.
Where to eat
For a laidback lunch or a classy dinner
Irene Bistro, at the Hotel Savoy – Both indoor and outdoor areas overlook Piazza della Repubblica, and the bistro promises 'authentic Tuscan cuisine'. And does it deliver.
Let's start with the basics: the bistro is the brainchild of Fulvio Pierangelini, him of the two Michelin starred Gambero Rosso fame.
Helming the team is head chef Giovanni Cosmai, dripping trademark Italian charm and an amazing talent for combining the most unlikely ingredients into something magical.
Irene Bistro, at the Hotel Savoy
I was there for lunchtime, which is particu­larly lovely if you like to take your time watching the world go by while enjoying your food and wine.
Irene's spiel is the use of fresh, seasonal ingredients sourced from local farmers and suppliers; there is a heavy focus on agricultural produce, making this ideal for vegetarians and vegans.
The trick here is to go wild on experimentation and not be too shy of trying out the more unusual combination of flavours – such as a creamed pea and quinoa soup.
Throughout the lunch, flavours, texture and presentation were spot on – but it is not just the food that makes the Irene what it is. It is the excellent direction of chef Giovanni, coupled with the fact that the entire team is very knowledgeable and genuinely helpful.
A definite highlight of any foodie trip.
www.roccofortehotels.com/hotels-and-resorts /hotel-savoy/restaurant-and-bar/irene
For a hip'n'happening dinner/cocktails
Konnubio
Konnubio, Via dei Conti – The attraction of this place is its versatility. The ambiance – low lighting, but not too low, and a spacious interior that somehow still feels intimate – fits both a romantic dinner scenario and a fancy group dinner. Later on at night, it doubles up as lounge bar with music.
Again, one of the biggest assets of this restaurant is its staff, starting with chef Beatrice Segoni; her menu brings together flavours from sea, land and fields in the most seductive manner. Don't skip dessert; the hazelnut Catalana cream is out of this world.
This was another restaurant where vege­tarian and vegan options were not only several, but also enticing, and the charming service (under director Marco Lombardi) was the cherry on the cake.
For a casual, quick lunch
Il Desco Bistrot
Il Desco Bistrot, Via Camillo Cavour – A few steps away from the Galleria dell'Accademia, this is the place if you want inexpensive and homemade, with the emphasis on quality.
Il Desco's ethos is from-farm-to-table, using seasonal produce. Vegetarian and gluten-free options are not just an after-thought, but an integral part of the menu.
Il Desco has a reputation for rather amazing Cacio e Pepe and cheesecake with fresh fruits in season.
A pleasant, relaxed meal in a place that is also very popular with locals.
Comments powered by

Disqus