Cannabis may damage brain development in adolescents
The use of cannabis is more frequent among adolescents than other drugs
Cannabis could damage adolescents' learning capacity and brain development, and discussing its recreational consumption gives the wrong impression that its use is not harmful, psychiatrist Aloisia Camilleri is warning.
"While regularisation might be a blow to the black market economy, cannabis use will probably increase.
"And while its consumption does not trigger psychosis or schizophrenia in most users, it does affect adolescent users' cognitive functions, including their attention, motivation, memory and the capacity to learn new things," she told the Times of Malta.
Dr Camilleri was speaking to this newspaper ahead of a conference on Friday organised by the Association for Child and Adolescent Mental Health focusing on addictions in adolescents.
Dr Camilleri, who works at Mount Carmel Hospital and the Detox Unit at Guardamanġia will be speaking about the potential effects of early exposure to cannabis and its synthetic analogues.
The latter – completely separate from medical marijuana – is especially of concern and is not leading to just psychological, but also physical health issues, such as respiratory and kidney problems.
Focus on school exclusion and prevention of developing dependence
Psychosis triggered by synthetic cannabis takes longer to respond to treatment. Users could spend months recovering – a high price for a 17-year-old who has to put on hold his/her studies, Dr Camilleri added.
Considered as a soft drug, the use of cannabis is more frequent among adolescents than other drugs.
According to the sixth European School Project on Alcohol and Other Drugs, conducted in 2015 in 35 European countries and targeting students aged 15 to 16, nearly five per cent of students in Malta used cannabis once or twice in the previous 12 months.
This was similar to other European countries' figures, however, it was not a small percentage, Dr Camilleri noted.
It was especially worrying as adolescents' brain and social identity was still developing, meaning the repercussions would stretch into their future ability to reach their full potential.
Fellow psychiatrist Rachel Taylor East will also be talking about substance use in adolescents, but will specifically focus on school exclusion and prevention of developing dependence.
Is there a way to know which children go on to develop problems with drug abuse, and if so, can we intervene before they start using drugs to change their path, she will be asking.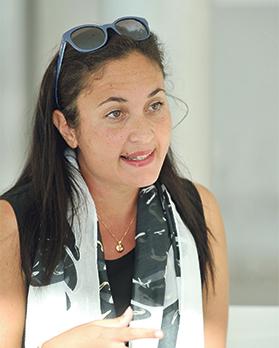 Consultant psychiatrist Rachel Taylor East. Photo: Chris Sant Fournier
Dr Taylor East referred to research she carried out in the United Kingdom in recent years, as part of an international project that is still ongoing.
Students with severe disruptive behaviour can be excluded from their classroom and grouped with other adolescents with behavioural challenges. This could however be backfiring as children learn disruptive behaviour from each other.
Dr Taylor East is urging a revaluation of the way these students – who are already, or on their way to become substance abusers – are being dealt with.
In the United Kingdom and the United States, professionals have developed a way of deciphering which personality traits could lead to challenging behaviour, which leads to substance use disorder.
By developing interventions that target students with identified personality traits, such as sensation seeking, they are being helped to channel their traits into something positive, rather than drug abuse. This has seen drug use drop even among those who did not participate in such programmes (probably because of peer pressure), and it could eventually reduce the number of people who develop dependence.
More information about the conference, which is being held between 8am and 5pm at the Xara Lodge in Rabat, is available on www.acamh.org, by email at malta@acamh.org or by looking up the Facebook page called The Association for Child and Adolescent Mental Health – ACAMH Malta.
World Mental Health Day
Mental health at the workplace is the theme of this year's World Mental Health Day.
Observed today, it aims to raise awareness of mental health issues and mobilise efforts in support of better mental health.
Depression and anxiety disorders are common mental disorders that have an impact on our ability to work, and to work productively.
According to the World Health Organisation, more than 300 million people suffer from depression, the leading cause of disability.
More than 260 million peple are living with anxiety disorders. Many of them live with both.
A recent WHO-led study estimates that depression and anxiety disorders cost the global economy one trillion dollars each year in lost productivity.
Mental health issues are more common than many think: one in every four people is affected by mental health problems at some point in their lives.
By 2030, depression will be one of the major health problems around the world.
Comments powered by

Disqus