Sashay, all the way
Ramona Depares rounds up the X-Factor Malta looks that had social media on fire.
It was not just about the music. Like anything that involves showbiz, fashion took a big slice of the social media hype that grew around X-Factor Malta in the runup to the show finale last week.
Alex Alden wearing a pure silk Luke Azzopardi gown. Photos: Facebook
Judges and singers brought their fashion A Game and pretty much treated the X-Factor stage like their own personal catwalk in the best way possible, with contestants and even some of the dancers being styled by Peter Carbonaro in what turned out to be a very slick show.
This was much to the delight of, not only the viewers, but also armchair critics who were happy to bask in the endless stream of social media photos and videos (here's looking at... myself).
In case you missed the finale and all the judgemental posts last week, here's a roundup of the looks that got the keyboards clicking.
The Alex Alden & Luke Azzopardi collab – a match made in sartorial heaven, dripping romance and medieval or renaissance chic. Every outfit unveiled since the first, infamous showing screamed style. Top of my list of favourites: that pure silk, yellow ballgown with gothic tulle sleeves and the deconstructed għonnella gown. I mean, who ever knew there was such a thing? Yaaaaas queen.
Fab is a sixth sense you're born with and they have it by the spadesful
Then there was Ray Mercieca's hardcore rock 'n' roll look. Black leather, black hat, classic top or tee... can't beat the combo. The man is known for being a ska guru, but damn – if we are talking swag, he brings it. Throw in a pair of black shades into the mix, and ain't nobody throwing shade at this dude.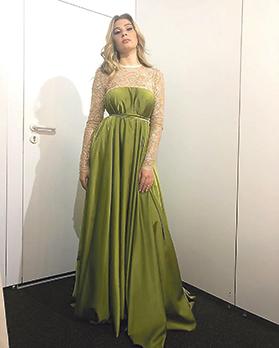 Winner Michela Pace wearing Luke Azzopardi.
Fashion's rebel boi Parascandolo scored a double whammy with contestants Petra and Kelsey, the former channelling Morticia Adams, sophisticated goth and the latter bringing some serious streetwear bling to the stage.
Shout-out to winner Michela Pace who kept everyone guessing by mixing it up with Charles & Ron designs, quirky Fly the Fly Vintage and a Luke Azzopardi for the finale.
Winners of the style game were our batch of homegrown designers, who proved once again that fab is a sixth sense you're born with and that they have it by the spadesful.
There's certainly no question of them being asked to sashay away.
Kelsey Bellante wearing Parascandolo.
Petra wearing Parascandolo. Photo: courtesy of X-Factor
Comments powered by

Disqus