The Glarac Association loses its life president
This year the HMS Glorious, Ardent and Acasta (Glarac) Association lost one of its founder members, first chairman, archivist and life president, when David Woodcock passed away after a long illness. His was a very tough battle which he fought with great courage. I recall the 2017 Cenotaph march in London, when, even though in pain, he wanted to carry on and complete the march which takes about two to three hours from start to finish.
The commemorative plaque presented by the Glarac Association to Malta in 2008 can be seen at the Maritime Museum in Vittoriosa.
David was one of the organisers in the first meeting, held in the year 2000, of relatives who had suffered a loss of loved ones serving on the three ships HMS Glorious, HMS Ardent and HMS Acasta. The three ships were lost in a bitter two-hour battle on June 8, 1940. More than 1,530 men lost their lives that day either in battle or because more than 900 of these men froze to death when no one picked them up from the frozen waters of the Norwegian Sea.
The German battleships did not stop to pick up the survivors, while the British Navy, not knowing a battle had taken place, did not send any ships to pick up survivors. To make matters worse for the relatives of these men, the whole story was a closed chapter while conspiracy theories as well as other theories circulated around Britain soon after the news broke out about the sinking of the three ships.
Bitter exchanges followed in the British Parliament, but at the time the war was at a very critical stage and the last thing Britain wanted was a distraction from the main task ahead. At the time Britain was alone facing the prospect of an invasion from the German forces. The Allies were still licking their wounds from the humiliation on French soil and grateful that the evacuation from Dunkirk had been a success.
What the relatives cannot understand is that now, after more than 77 years, the story is still unresolved and no proper answers are available. What is so terribly important about this story or so terribly embarrassing to the British government, or even worse, of top national security importance that this story should still be withheld?
After the first and second meeting in Plymouth, a committee was formed in 2002 and David was elected chairman of the committee. In 2008 he came to Malta along with most of the committee to present to Malta a commemorative plaque remembering the Maltese men who lost their lives on HMS Glorious. He unveiled this plaque together with the then President of Malta, Eddie Fenech Adami.
Heritage Malta chairman Mario Tabone, Davis Woodcock and President Eddie Fenech Adami unveiling the plaque in February 2008.
David was also the archivist of the new association. He was involved in the making of a documentary in 1996-7, aired on Channel 4's Secret History series, about the loss of the aircraft carrier Glorious and her two destroyer escorts Ardent and Acasta. He is noted as having a huge collection of material to do with the three ships, and over the years had amassed a great deal of knowledge on the whole tragedy.
He was a firm believer in the theory that the Glorious had left the safety of the convoy in order to be the main player in a secret operation, code name 'Operation Paul'. Operation Paul's intention was to lay mines around the Swedish port town of Lulea to prevent or hamper the importation of iron ore from Sweden to Germany.
Sweden was a neutral country and such action would be a violation of its neutrality. Churchill, however, preferred to act now and apologise later.
David also believed that the captains and crews of both HMS Ardent and HMS Acasta should have been awarded more than a mention in despatch by the admiralty. Their courage during the whole battle, despite fighting against superior odds and even damaging the Scharnhorst in the process, merited more than just a mention in despatch. He was still pursuing this fact with great vigour.
David was also keen on tracing his father's footsteps while the latter was stationed in Malta. His father, Fredrick, had perished on the Glorious on June 8, 1940, along with his shipmates after a two-hour battle with two of Germany's new mighty battlecruisers Scharnhorst and Gneisenau. David was very proud of the fact that he was born in Malta during the time his father was stationed on the island.
Fredrick, was a Master at Arms and as such was also the PT instructor for the ship he was on. His role was a liaison between the captain and the crew, making sure the crew was kept fit and happy. He would organise many of the ship's sporting activities as well as shows during special occasions. Fredrick's love for physical fitness would one day play a prominent role in one of Cospicua's most memorable days as a football club.
Joe Barbara, known as il-Mast, president of St George's Football Club, proudly sitting next to the Cousis Shield, 1927.
Fredrick was stationed in Kalkara and would often notice a group of men running around the area in what looked like a training routine. One day he asked these men what they were doing, and on telling him that they were part of Cospicua's football team his interest rose. He made enquires, and upon meeting the president and committee, was appointed their club trainer. He was part of the team that went on to win the coveted Cousis Shield in 1927, beating Valletta United 1-0.
What is so terribly important about this story or so terribly embarrassing to the British government, or even worse, of top national security importance that this story should still be withheld?
The way a story unfolds is sometimes quite amazing.
Since becoming chairman of the Glarac Association Malta, one of my dreams had always been to erect a monument for the Maltese lost in this tragedy. Unfortunately, here in Malta I do not believe memorial monuments for particular ships exist. I do not recall seeing one with names of the men lost on any ship.
I contacted a friend of mine who also happens to be a noted Maltese artist to help me and the committee with sketches of our ideas. His name is Joe Barbara. Our conversation during the many times we met to discuss the monument sketches drifted towards the men on HMS Glorious and when I mentioned Fredrick Woodcock and his relationship with Cospicua's winning the Cousis Shield in 1927, Joe's eyes lit up.
It so happened that Joe's grandfather, also called Joe Barbara, was president of Cospicua's football team at that time. He showed me photos of his grandfather proudly sitting next to the Cousis Shield. Joe Barbara, il-Mast, as he was called in those days due to the fact that he was also a bandmaster, is still highly thought of to this day because during his time as their president, St George's Football Club went through some of their finest football days. Stories such as these are commonly found in many of our rich historic culture.
David Woodcock (second row, centre) next to Mrs George Bonello Du Puis at the 2003 memorial service with (front row, from left) the three survivors from HMS Glorious, Kenneth Cleave, Harry Hoose and Joe Brown, next to Malta's High Commissioner to the UK George Bonello Du Puis.
David Woodcock came to Malta on several occasions looking to trace his father's footsteps. When they lived in Kalkara, David's mother employed a number of people to help her out in her daily chores. He would tell me of the letters she used to write to all these people after she left our shores, right up to the time when, because of old age, she could not do so any more.
Fredrick Woodcock, David's father, Master at Arms and trainer of St George's Football Club, in the 1927 Cousis Shield final against Valletta United.
He was devastated when, upon her death, all her letters, which she had lovingly kept and treasured, went missing. David would have loved to have added these letters to his collection, because he believed that they would add something to the Glarac Association.
His searches took him to the Cospicua football club. They were glad to see him and talk to him; however, they could not find a photo of the 1927 football team with his father in it. If there is such a photo and David's father can be identified I would be very grateful if a copy can be made, so that I can forward it to David's family, who I am sure would be very pleased to see it.
He also met and talked to Vincent Zahra from Cospicua. Vincent had lost his brother Carmelo on HMS Glorious and was also very interested in the story behind the tragedy. He had been researching the story for a long time, and therefore a common bond formed between them.
Vincent was also instrumental in contacting as many of the relatives as possible for the 2008 plaque presentation service. Unfortunately, David could not come to our shores and attend the service of remembrance that we hold every year for the men lost on the three ships. He had been hoping to attend last year; however, ill health prevented him.
The Glarac Association has a lot to be thankful to David Woodcock for. His endeavour to keep the association moving forward so that the men lost on the three ships would be remembered was indeed commendable. After serving as Glarac Association chairman for a couple of years he stepped aside to allow for fresh ideas to take over for the good of the association. He was made a life president due to his continued work towards the association as itsmain archivist.
Memorial service
Every year a memorial service is held at the Maritime Museum in Vittoriosa, attended by relatives of the Maltese seamen who died on board HMS Glorious as well as other Glarac Association members from the UK.
This year the service will be held on March 17 at 10am beginning with a Mass at Fort St Angelo's Egmont Hall, followed by refreshments.
For more information contact Saviour Azzopardi on 7983 5319 or e-mail salvuazz@hotmail.com.
Saviour Azzopardi is chairman of the Glarac Association Malta.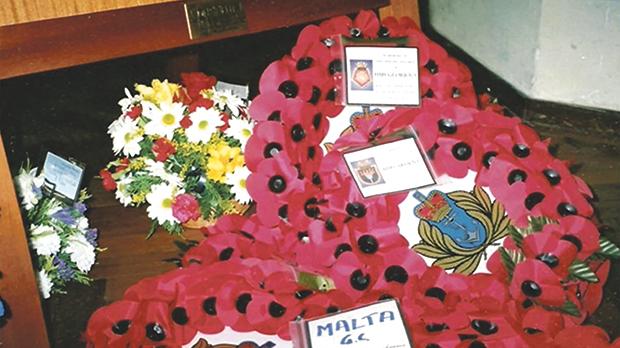 Malta's wreath at the memorial service in Plymouth, 2003.
Comments powered by

Disqus